How Hiring A Painting Contractor Can Enhance The Interior of Your Home
July 20, 2019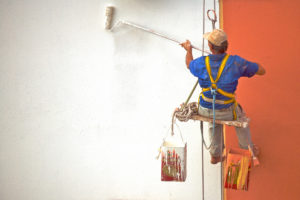 Hiring a painting service company is not only the smartest and most reasonable choice, but it is also the choice that helps create enhancing results. Painting contractors, of course, are trained to paint for you, but they are also trained to help the overall look and feel to your home. Here are some ways in which hiring a team of paint contractors, specifically R Company, can improve the overall conditions of your residence. 
Having an Eye for Color
Painting contractors are not only here to complete a paint job, but they are also trained with the service of having an eye for detail. This is what makes these professionals trustworthy; they do not aim to make your house look tacky or off. They will help you by suggesting which colors complement each other, which hues may match the furniture within your home, and how and where the colors you desire can and should be placed. They will talk and work with you in regards to these aspects so that you are pleased with the outcome of your home.
Patience In Painters
Paint contractors are also very patient people. Patience is a skill they must attain and carry out in their work because patience is equivalent to a positive outcome. It's natural for us to get reckless, but when we do, that is when our work ethic becomes flawed and it is definitely reflected in the end product. Because contractors are able to work with even the smallest details, the paint job will look even nicer. They can provide you with neat and fresh walls of paint.
Effects of a Successful Paint Job
When your home is completed with satisfying and aesthetic walls of paint, it can enable you to focus more, feel comfortable, and look forward to coming home after a busy day. Studies show that organized settings give off an enlightening vibe; the settings we perform in affect our cognition and the way we function. Another factor that comes into play is when you invite people into your abode; people don't feel welcome in an unappealing setting. It can also say plenty about one's way of thinking and living conditions (that they may or may not settle for).
Don't Wait on a Home with Paint
Who doesn't dream of having a home where every corner you turn in a pleasing sight to the eye? The paint on your walls play a major role in making this dream come alive. Learn more about the local painting contractor business, R Company, that you can hire to help give your home a spice of life!