Garage Remodeling Services in El Paso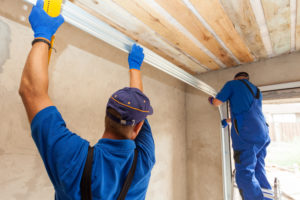 Are you tired of your garage looking more like an episode of Hoarders than a place to store your vehicle? Most of us only spend a couple of minutes per day at most in our garages, so when it comes to remodeling, it's not a room that comes to mind right away. After all, it's just where the car lives and where we tend to store things like Christmas decorations and tools. However, a good garage remodel can help you make the most of this underused area of your home. R Company proudly offers garage remodeling services. Whether you want to convert it into a livable space or simply make it a more accessible place to store your car and other clutter you'd rather not have in the house.
4 Reasons to Remodel Your Garage
Home Value
Did you know a good garage remodel can add value to your home? By simply fixing the cracks in the floor, adding some good insulation, and modernizing your garage doors, you are investing in the resale value of your home. Whether or not you are thinking of selling, redoing your garage can also help make your home more energy efficient and spacious.
Hide Clutter
It's amazing how quickly clutter piles up in homes. From seasonal lawn decorations to spare tires and tools, a remodeled garage can provide special storage spaces just for these things. Not only will your home seem less cluttered, but you'll always know where that inflatable Snoopy Santa will be from now on.
Store Another Car
Sometimes it can be easy to forget your two-car garage is in fact, meant for two cars. Remodeling your garage can simply mean adding closets and shelves to store everything that is taking up space.
Storage Space
The most obvious reason for remodeling your garage is storage space. R Company can help transform a plain garage into the perfect space to store out of season clothes, tools, and other things that may not hold up well in an outdoor shed. This way you can have storage space without compromising the space you need for your cars.
How R Company Can Help with Your Garage
At R Company, we are experienced in remodeling any room in your home, including the garage. From fixing concrete floors and adding epoxy treatments to installing new garage doors for added security, our team is ready to help you create the garage you want. We never contract out any aspect of the projects we take on, which means everyone on our team knows how to do the job you hire us to do. Contact us today to get started!