Bathroom Remodel — Transform Your Bathroom Into a Whole New Experience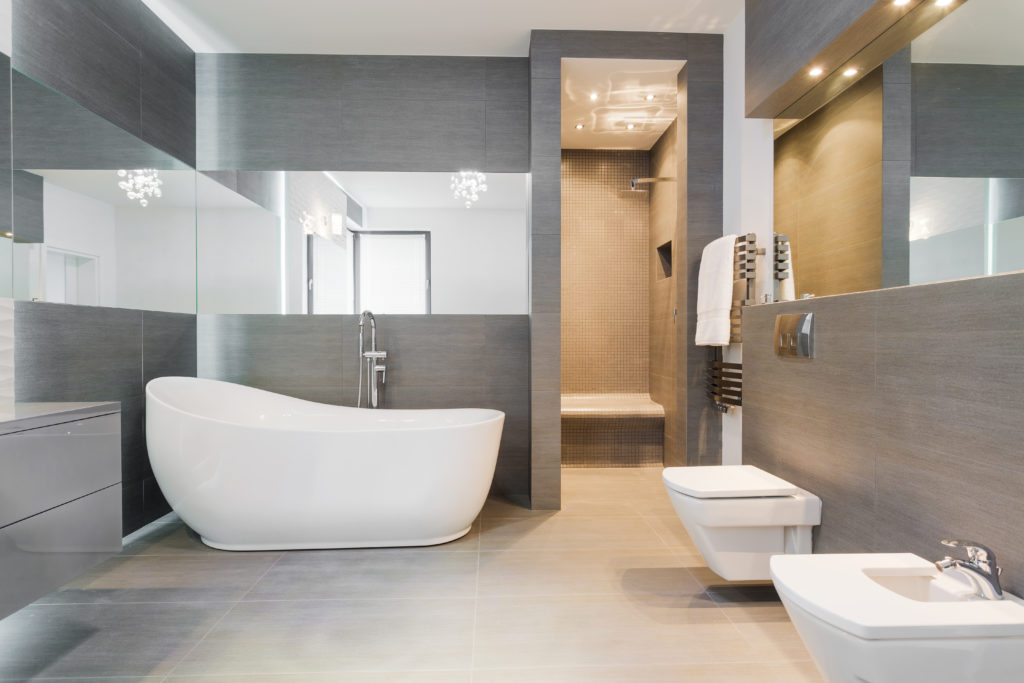 It's often said that the bathroom is the most used room in the house. Your guests use it. Your kids use it. Your whole family uses it. It's certainly true that people spend a considerable amount of time there. Most of it lends itself to some quiet alone time. A bathroom remodel can enhance your bathroom into a more functional and even luxurious retreat. Whether you are looking for a full-blown bathroom reconstruction, looking to add, remove, or simply alter the design, then R Company is here to build your newly remodeled bathroom.
Transform Your Bathroom: From Bland to Contemporary
As technology advances, building techniques and home features are always improving. Most of today's modernized home features are all about maximizing space, increasing energy efficiency, minimalizing design, and more. Here are just a couple of things you can do with your bathroom.
Inspired Custom Vanities: A reimagined bathroom can have a great impact on the entire room. Fixing up the vanity alone can be a great upgrade, improving your bathroom's entire layout. Imagine anything from an oak vanity, granite countertops, newly painted cabinets, and more.
New Showers: There is a myriad of options when it comes to installing a new shower. Today, you can even have a thermostatic shower that allows you to set the water temperature so you never have to worry about standing in the cold shower until the warm water comes on. In terms of options, you can choose a stand-alone shower, a bathtub, and more. For stand-alone showers, there are several styles including curved enclosures, rectangular enclosures, cornered enclosures, neo-angle enclosure, tub/shower combo, hinged, door, pivot door, and on and on.
Benefits to a Bathroom Remodel
There are many reasons to consider a bathroom remodel. Many of those reasons might be personal: maybe you don't like the light fixtures, you want to update the vanity, the toilet is worn, the bathtub is old fashioned and stained, etc. Many times homeowners will put this off. And yet, there are several true benefits to remodeling your bathroom including:

Increasing your home's value: Just like a good kitchen remodel, bathroom remodeling will increase the value of your home. This is because updated features, contemporary layouts are always desired characteristics for a home.
Getting rid of mold and mildew: A bathroom sees a lot of humidity and mold and mildew will always thrive. Regular cleaning and scrubbing can only do so much against the impending invasion. Tubs and shower doors are often the first to go, as they collect a lot of that extra moisture and mildew. They are not meant to last forever. Updating these aspects of your bathroom is then a good choice, not only for aesthetic reasons but for usability and cleanliness.
Maximizing space: Updating and remodeling your bathroom can help with maximizing space and increasing the functionality of the room depending on your individual needs. Perhaps your family has grown or you have an elderly family member or simply looking for special requirements. Make the most of your space through a remodel.
Upgrading and contemporizing: Perhaps the last time your bathroom saw an upgrade was in the 80s or 90s when the house was first built, or perhaps the home is relatively new but the bathroom is not working for you. Upgrading will mean you can install energy-efficient aspects, improve light fixtures. You will enhance the performance of the room.
Elements To Upgrade and Enhance
At R Company, our trained team is ready to help you create a new look for your bathroom. If you want to modernize, or are simply tired of the same old look every day, our experts are ready to help you create the bathroom you want, or you need. Call us today for more information about our services.
Whether you are looking for a full bathroom remodel or simply looking to upgrade some of the features, we can help. We begin by assessing the layout of your existing bathroom and taking a look at the options. We will help with ideas and suggestions regarding what might best fit the space, as well as based on what you're looking for.
We can upgrade/install:
New showers
Vanities
Flooring
Light fixtures
Sinks
Tubs
Updated layout
The R Company Difference — Extensive Experience and Dedication
Here at R Company, we have extensive experience updating bathrooms and installing new showers, vanities, tubs, and more. Working with us means you're hiring professionals to ensure the utmost quality of your upgrade. We specialize in renovations of all types.
Contact the Home Renovation Experts Today
Contact R Company for all your bathroom remodels and renovations. Call us at 915-373-4127.