Excellent Roofing Services in El Paso, Texas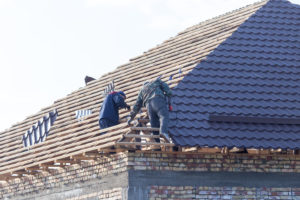 The roof over your head is one of the most expensive and often overlooked parts of your home. Ideally, a good roofing job will last about 20 years, notwithstanding a serious natural disaster or other mitigating circumstances. R Company knows just how important a good roof is for your home's structural integrity as well as your protection. While El Paso may not see a lot of rain, it does see its share of extreme weather, including high temperatures in the summer and high winds year round. These weather conditions may not seem as damaging as rain or snow, but they do cause their share of damage. It's important to be able to count on quality contractors like R Company to provide roofing services when you need help.
Look For These Signs to Avoid Costly Roof Repairs or Replacements
Your roof may seem just fine, but over the years, it will start to deteriorate. It can't be helped-something as exposed as your roof will eventually need to be repaired and replaced at some point. However, there are things you can look out for in order to expand your roof's lifespan.
Leaks or Gutter Damage
It may not rain a lot in El Paso, but if you notice a leak in your roof, don't wait to get it repaired. A simple leak can quickly cause a lot of damage that can be very expensive. The same goes for a stopped up or leaky gutter. If your gutter is blocked by debris, rodents and other pests can quickly look to call it home, while the weight of the blockage can lead it to sag away from your home. 
Missing or Damaged Shingles
This is something most people don't normally think about. How often do you think to yourself, "I should really check out my roof shingles"? If you are like most people, not often. While a missing shingle may not seem of paramount importance, it can quickly lead to leaks that cause a lot of expensive repairs.
Sagging Areas
If notice your roof starting to sag, it's time to call a professional as soon as possible. It can mean severe water damage, improper installation, a weight imbalance, or other serious problems. You can even run the risk of your roof caving in. Don't wait- when you notice this, call expert roofing services immediately. This way you may be able to simply repair it instead of having to replace the entire roof.
Hire the Experienced Roofing Services You Need
When you are looking for reliable and quality roofing services in El Paso, you can trust R Company to deliver the work you need. We never contract out our work, which means our team is experienced in providing expert roofing services in addition to our other services. Don't wait until that leak turns into a gusher, or your gutter peels off the side of your home. Contact us today!