The Secret to the Best Kitchen Colors
January 22, 2021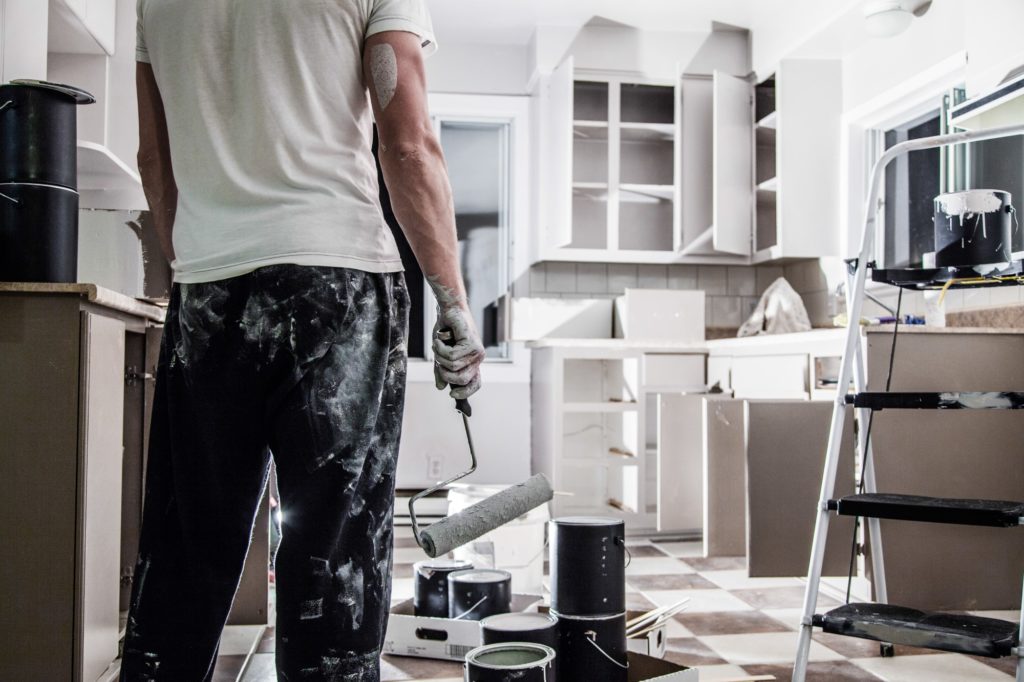 There are many ways to spruce up your kitchen. How to do it, is up to you and the type of atmosphere or vibe you want to create when people walk in. Some people choose to replace the cabinets, add a new sink, or install an attention-getting kitchen island, but there is a way to transform your kitchen without tearing anything down. A new paint job can do wonders for the looks of your kitchen and the rest of your home. Not that we want to discourage you from tearing stuff down. After all, here at R Company, that's what we do best. We can give your kitchen a complete makeover, but if you're looking to just give it a new look, you might consider whether your current colors are fulfilling your kitchen's full potential. 
For many modern homes with an open layout, the kitchen blends into the living area or a wide dining room, so not only is it a unifying element to the rest of the aesthetic and provides the base for your overall style but it also defines the energy of the entire room. So what do you want your kitchen colors to do for you? 
Do you want your kitchen to:
Inspire and create a lively setting that welcomes guests and plenty of conversation

Have darker tones that take the stress out of cooking 

Go a little wild and go with bold tones to spice up breakfast, lunch, and dinner 
You also have to ask yourself the kind of vibe you are looking for in your kitchen. Consider whether you want:
Modern

Minimalist 

Traditionalist 

Rustic 

Transitional 

Eclectic 

Industrial 

Mediterranean 
Once you have the style of the kitchen you have or are going for (if you're doing other renovations), then you can decide on the shade you envision and consider a few more elements:
Will the color of the walls match or complement the kitchen floor

. It's great to envision a bold and striking shade of red for your kitchen, but if your floor is of a particular shade it might not make for a great match. So you want to consider the color of your floor and how that will stand with the potential wall color. 
Will it match the cabinets and the countertop?

Altering the cabinet color is also an option, but your countertops might be a different story. If you already have granite, marble, or other custom countertops, you want to make sure to highlight them or complement them. 
What's the lighting situation?

How will the color affect the light or will it require some more lighting to really enhance the shade. Darker shades like grays, blacks, pinks, and reds make spaces appear dim. Neutral shades tend to provide more lighting. 

How will the color affect the space?

Believe it or not there are colors that make spaces appear larger or more spacious and other shades that make things seem smaller and more cramped. 
Kitchen Colors In Vogue for 2021
Bluish-Green tints: These blue-green tints (lighter and darker) work really well to make a kitchen pop and add a contemporary air and natural tone. 
Sage Green: This popular shade of green works great on traditional and modern kitchens. When mixed with the right white tones or browns can really create a vintage feel. 
Apple Green: This choice is for going a little bolder and going for something that pops. This is a cheerful choice, for really putting some pep into your morning coffee. 
Pastel blue:  This soft blue with tones of gray can create a unique and contemporary feel. Goes best with darker floors in order to make the blue stand out. 
White kitchens: A classic white will provide that traditional feel while illuminating the space and making things appear wider and brighter.
Black kitchens: If you're going for something a little more refined, a black kitchen is refined, bold, and commanding. Can't go wrong with a black design with some grays or white for contrast.  
Brown kitchens: Different shades of brown can provide a traditional, rustic, and contemporary feel. It all depends on the shade and the other colors that compliment it.  
Red kitchens: Red shades can be used in different ways, but red tones can really put flare into a kitchen and add an intimate but contemporary feel.
Take Your Kitchen in a New Bold Direction
If you're ready to renovate or remodel your kitchen, trust only the professionals at R Company. Not only do we convert an old drab kitchen into a contemporary eye-catching design, we help you choose the final colors for your new cooking paradise. Bring on the dinner parties and intimate family dinners! Get the kitchen you envision with professional contractors.