Design Tips to Know About Before Remodeling Your Bathroom 
March 4, 2021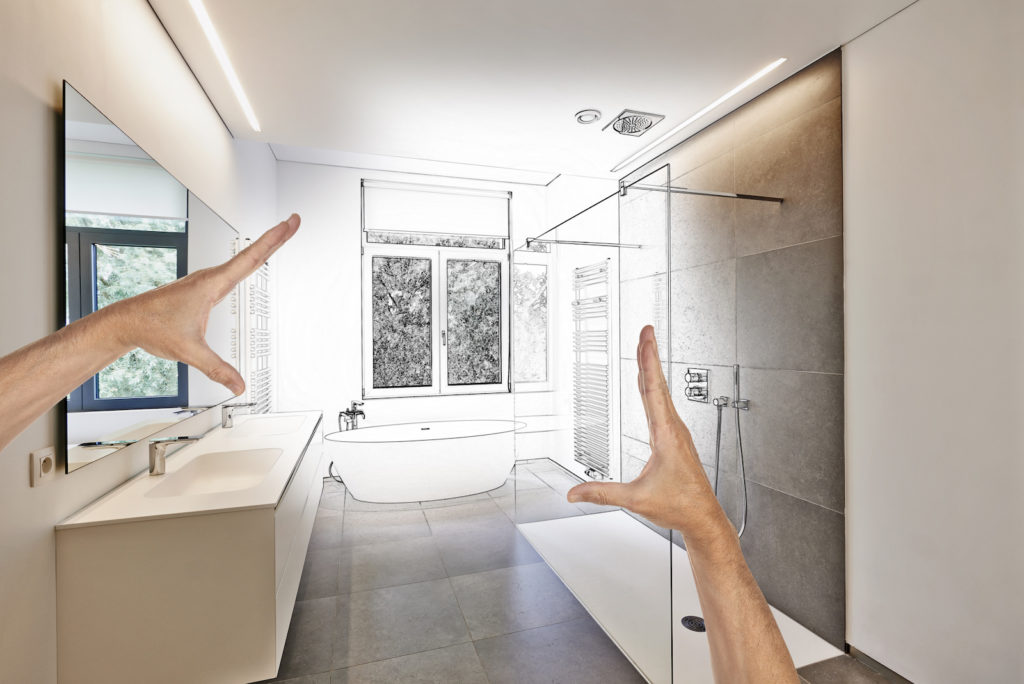 Home remodeling projects are some of the most exciting things to look forward to, especially when you own your home and have the freedom to do with it as you please. Maybe you have specific colors picked out and you know for sure that you want to spruce up the place, but what exactly do you want to add to your bathroom to give it the upgrade it deserves? There are several tips and design ideas to look into to help narrow down the vision you have for your soon-to-be remodeled bathroom. We provide a brief and helpful list to help you get started. 
Determine the Focus of the Bathroom
Most of the time, the first thing people see when they walk into a bathroom is the toilet. While this is normal, you should determine if you want other features in your bathroom to stand out. With that being said, you might want to look into features or material that add a dramatic feel to the bathroom. For example, you could pick a brightly-lit vanity, stealing the attention of your guests as soon as they walk in. 
Consider the Amount of Space You Have to Work With 
Whether you have a spacious or a smaller bathroom, you don't want to get carried away. Of course, the whole point of a remodeling project is to add life to the room, but if you don't pay attention to the space you have, you might overwhelm how much your bathroom can take. Save yourself time and money by taking dimensions and planning ahead. 
Consider Whether You Want to Keep Vintage Finishes 
Vintage finishes are great in all kinds of homes, but when exactly does it become too much? In fact, vintage finishes could be the sole material that's bringing your entire bathroom down. Think about what you could replace vintage finishes with and the difference it would make. Would it look cleaner? Would it better match the remaining finishes in your bathroom? 
Look into Lighting 
Lighting is also very important to consider when looking into new materials and finishes for the bathroom. The best way to find how you can light your bathroom appropriately is by looking at different layers of task, accent, ambient, and decorative lighting. You could also consult with one of our professionals to hear their opinion on what kind of fixtures would work best in your customized bathroom. 
Choose an Ideal Height for Your Sink
Sinks are usually made at a standard height when homes are being built, ranging from thirty-two to thirty-four inches off the floor. Although, you still want to consider the dimensions that will work best for your vanity or bathroom mirror. If you prefer it to stand taller, this is definitely an option. This is all for your comfortability when using your bathroom sink. 
Don't Be Afraid to Invest in Long-Lasting Materials 
Renovations require time and a fair share of money. If you're not ready to make the investment that remodeling requires, you should probably reconsider whether or not you want to take up these projects. Remodeling is all about investing in newer and higher-quality materials. By choosing cheaper materials, you only cheat yourself out of your own money because years from now, you'll find yourself having to purchase replacements and newer materials. 
Double Check the Size of Your Bathroom Floor Tiles 
Always check the dimensions of your bathroom. By taking measurements ahead of time, you won't have to worry about whether everything will fit in your bathroom. Imagine purchasing new and expensive tiles only for them to not fit the floors the way you wanted them to? If you have a smaller bathroom, consider smaller tiles. If you have more room to work with, then it might be possible to look into bigger tiles. 
Give Your Bathroom a Personal Touch 
Most importantly, have fun with your new bathroom by giving it your personal touch. Whatever your tastes consist of, you should throw your ideas in every room of your home, especially the bathroom! 
Choose The Trusted Professionals at R Company to Get Started on Your Home Remodeling Project, Today! 
R Company is the best remodeling company in El Paso. Thanks to our comprehensive services, we can take on almost any kind of remodeling project for commercial and residential settings. We want to make your visions become a reality! Contact us today to plan your remodeling project today.