8 Ways Your Landscaping Can Improve Your Home's Curb Appeal 
May 13, 2021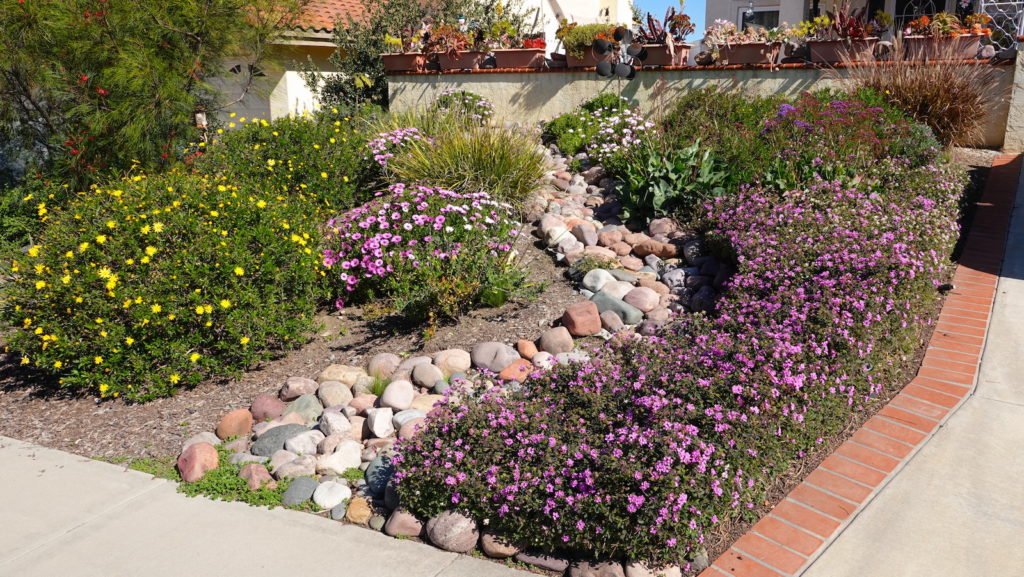 When you own a home, you should feel proud of your property and the beauty and comfort of a home it has to offer. When you approach your home, what is the first thing you think of? Are you impressed by what you see or could your front yard use a renovation? If this is the case, you've come to the right place. It can be hard to know how you want to upgrade your landscaping in your front yard because the possibilities are endless! Thankfully, we have a couple of ideas to get your mind thinking. 
Elevate Your Garden with Decorative Rock Walls
Decorative rock walls have been popular in front yard landscaping in the past couple of years. They're perfect for the modern home! What makes this idea so considerable is that you can incorporate several elements. You can use stone, brick, or any kind of rock material that you think would look best. You could even add a dramatic touch by placing light fixtures right below the rock wall to emphasize its height difference on your front yard! 
Illuminate Your Front Yard 
Light fixtures are always fun to work with and have inside and outside of your home. Light gives your home life and personality. If you want to show off your home, you have to give it the lighting it needs! Light fixtures typically work best when you don't have too many elements in your yard because light can cast shadows and highlight the space in your yard. 
Incorporate Big Plants and Shrubbery 
If you have a big front yard with so much space to fill, adding plants is one of the best ways to up your landscaping. Large shapes and masses of plants can look attractive from afar, say, when people are walking or driving by your home. When you throw in plants, bushes, and flower beds, people are bound to look twice! 
Consider Plants for the Seasons
One important thing to consider is that you should choose elements for landscaping that will work in every kind of season. If you're thinking of adding plants, you should find those that will survive through all kinds of climate. You could also look into elements that can be easily added or removed from your landscaping that way you can switch up your yard according to the seasons. Like that, you'll have a yard that makes a statement no matter the time of year! 
Stay Consistent with the Maintenance of Your Yard
It can be easy to let your yard go. It takes a lot of time and dedication, but it's always worth it. When we say to stay consistent with maintenance, we mean to keep up with cutting the grass, trimming bushes and trees, cleaning rock walls and pathways, replacing faulty or broken light fixtures, little things like that. Although most of these are quick fixes, they can make a huge difference if you don't keep up with them. 
Keep Proportions in Mind 
Depending on how much space you have, you have to think about what exactly you can add to your front yard. For example, if you're thinking of adding a stone walkway and wall, you may want to settle just for that and do away with the idea of a flower bed, which typically takes up plenty of space. You don't want to overcrowd your space if you're working with a smaller yard because after a while, it'll just look overwhelming. 
Add Border Edging to Define Space 
Border edges are great when you have several elements in your yard such as flower and plants beds and light fixtures. Similar to decorative rock and stone walls, you can get creative by using any kind of material to finish a border edge. Border edges make a yard look well kept and tidy. One could say it adds organization and presentation to every element in your yard! 
Install a Pathway 
One of the most dramatic and beautiful elements you could add to your front yard landscaping is a walkway. This shows just how much a homeowner cares about how their guests view their home. A walkway is a warm and welcoming introduction to your home. If you want to make a statement, a pathway from the sidewalk to the front door is one of the best ways to achieve exactly that! 
Choose R Company to Take Your Landscaping to the Next Level! 
If you're ready to treat your home to an upgrade, there is no better business than R Company to take care of the work for you! Contact us today to learn about our many home renovating services and how we can get started on your project.