12 Low-Water Landscaping Ideas For El Paso Homeowners
July 26, 2022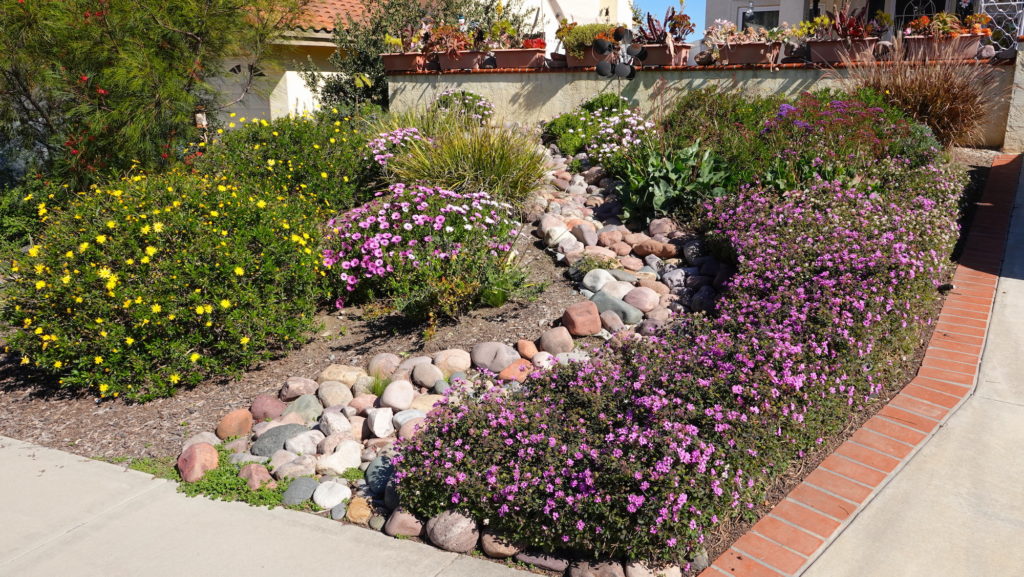 A home is a place for the family to grow and build lasting memories; hence, your home's landscape is an important decision. Of course, your home must reflect your style and values. A low-water-friendly landscape helps you to conserve your water use alongside other benefits offers, like eliminating pollution and erosion and reducing yard maintenance. 
If you are seeking guidelines as you deal with seasonal and topographical challenges, our El Paso landscaping company is here to help. We've compiled some landscaping ideas that you can try out within your scope and budget. 
1) Xeriscaping
Xeriscaping—based on the Greek word "xeros," which means dry—was coined by the Denver Water Department to market water-conserving landscaping. While it sounds like an oxymoron, Xeriscaping has become quite a popular option for homeowners in El Paso.
The Xeriscaping approach focuses on seven areas: 
Planning and design

Soil analysis and improvement

Selecting plants

Creating practical turf areas

Irrigation 

Mulches

Proper maintenance
In order for Xeriscape landscapes to thrive, you will need plants with low water needs, native and exotic plants, and rainfall harvesting. As your landscaping team, we can let you know about all the best plant options to take advantage of the Xeriscaping method.
2) Native Landscaping
A great way to achieve low-water landscaping in El Paso is by planting native plants. These plants have evolved for centuries, adapting to severe dry conditions. Not only do native plants not need fertilizers and fewer pesticides, but they also require less water. Unlike lawns, native plants don't need to be mowed.
Some native plants in El Paso include:
Damianita

Ocotillo

Prickly Pear Cactus

Texas Sage
When planting native plants, you must first prepare the land and eliminate all non-native species before planting. 
3) Reduce Your Lawn
While beautiful and vibrant, a lush green lawn is a water-guzzling enterprise. For that reason, you should replace parts of your lawn with low-water plants to create a more drought-tolerant landscape. Having a pretty bed of low-water perennials on your lawn or the sidewalk can take the place of high-water grass in the front yard.
4) Use Decorative Hardscape Elements
Decorating your yard with hardscape elements like a circular walkway or a gravel center creates an aesthetically pleasing visual. If you treat your garden or yard like garden art, you can replace water-needy plants with non-plants. 
Low-water landscaping will still look lush if you carefully select shrubs and evergreens that only need supplemental water in regular weather. Drought-tolerant ground covers catch excess rainwater that may run off the hardscaping on a gentle slope.
5) Install a Water Fountain
A fountain is not only a good aesthetic choice but a great idea for a low-water landscape design. A well-designed water fountain can help you capture and recycle water.
6) Rely on Water-Thrifty Plants
Planting water-thrifty plants are another low-water landscaping idea for a drought-tolerant garden. Mixing up perennials that only need supplemental moisture to thrive and evergreens will help you conserve water usage in your yard.
Some water-thrifty plants include:
Nepeta

Artemesia

Four O'Clocks

Russian Sage

Agastache
7) Pick Porous Materials
Use porous materials as part of your irrigation systems. This way, the moisture will be absorbed by the soil before running off. A porous material or a layer of mulch between drought-tolerant plants will help reduce water loss 
8) Design Water-Smart Slopes
While it can be a hassle to manage a steep slope when considering water runoff, by adding a tiered garden bed in a sloped area, you get the best of both worlds. A tip for designing a garden on a steep slope is to always water early in the morning when evaporation is minimal. 
9) Plant Densely
Densely populated flowerbeds will help shade soil, slowing down moisture evaporation when the sun's heat is intense. With closely spaced planting, you can crowd out weeds and reduce the requirements for mulch. So, if you plant a collection of water-wise plants that all require minimal water will both conserve water, give you a lush garden and eliminate the need to weed. 
10) Plant Ground Covers
A ground cover can serve as a living mulch to slow water evaporation in your landscape. Since they are low-growing plants, they will also help minimize water runoff. 
11) Take Advantage of the Mulch
Mulch is crucial for establishing a water-saving landscape. A good example of this is gravel. It serves as an inorganic, low-maintenance mulch for high-water succulents and grasses. Also, gravel is a permeable walkway that will prevent water from running off. 
12) Plant in Groups
Plants with similar water needs should be placed together. This is an easy way to design a low-water landscape. Plants from drier tenures should be planted together, and native plants should be planted together as long as their needs are similar. 
Landscaping Services in El Paso
Suppose you require a landscape company with fresh concepts to bring a clean aesthetic to your space. You should contact R Company. With our level of expertise and experience, we'll coordinate every detail of the landscaping, giving you the chance to enjoy your property even more!